Confections Lab Now Bears the Name of Culinary Arts Alumna and Generous College Supporter
4/05/2022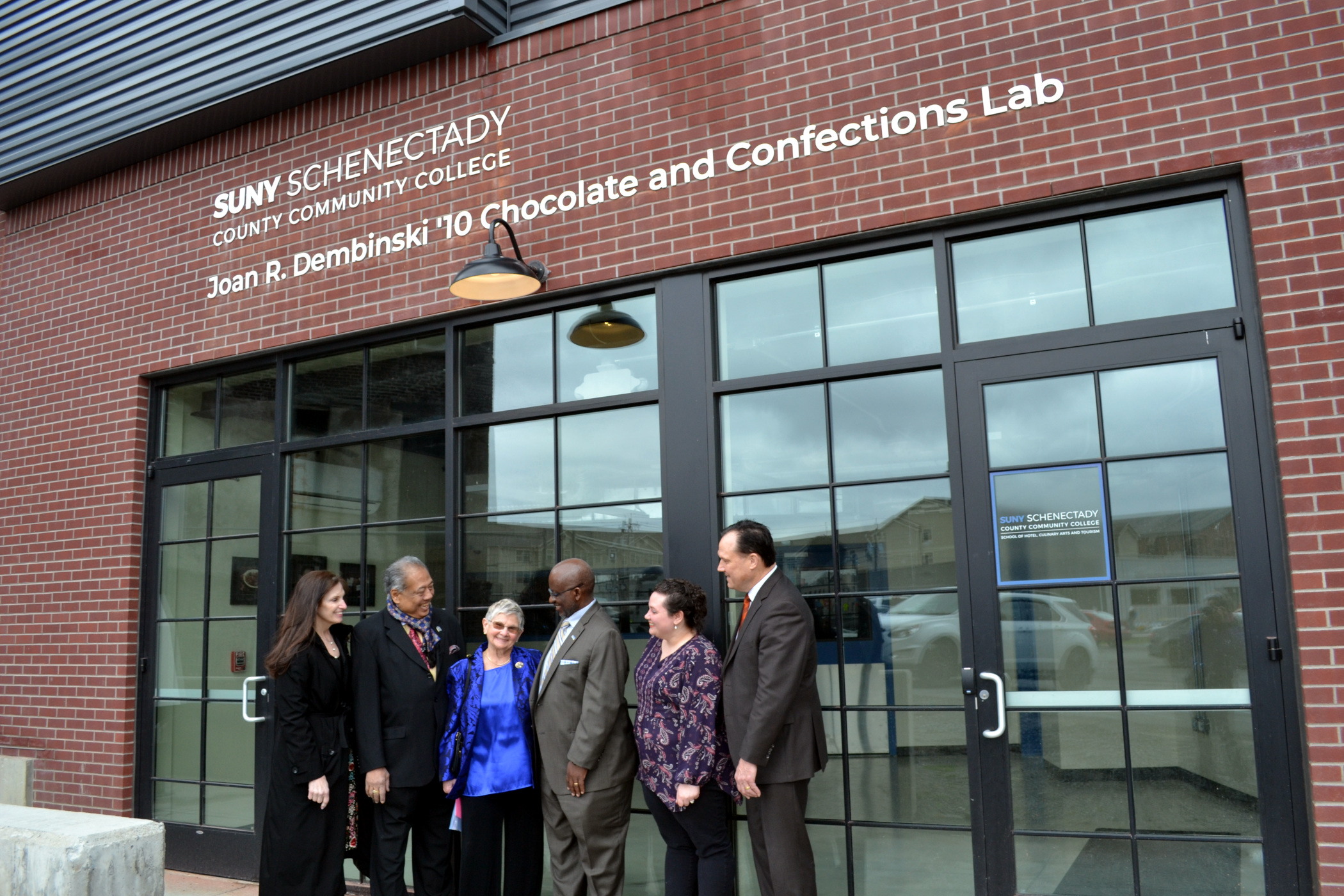 The College has recognized a graduate and generous supporter by naming the downtown Culinary Arts lab in her honor. The lab, located in the Mill Artisan District, was officially named the Joan R. Dembinski '10 Chocolate and Confections Lab to recognize Dembinski who graduated with her degree in Culinary Arts and whose generosity has transformed the lives of students through scholarships and enhanced campus initiatives.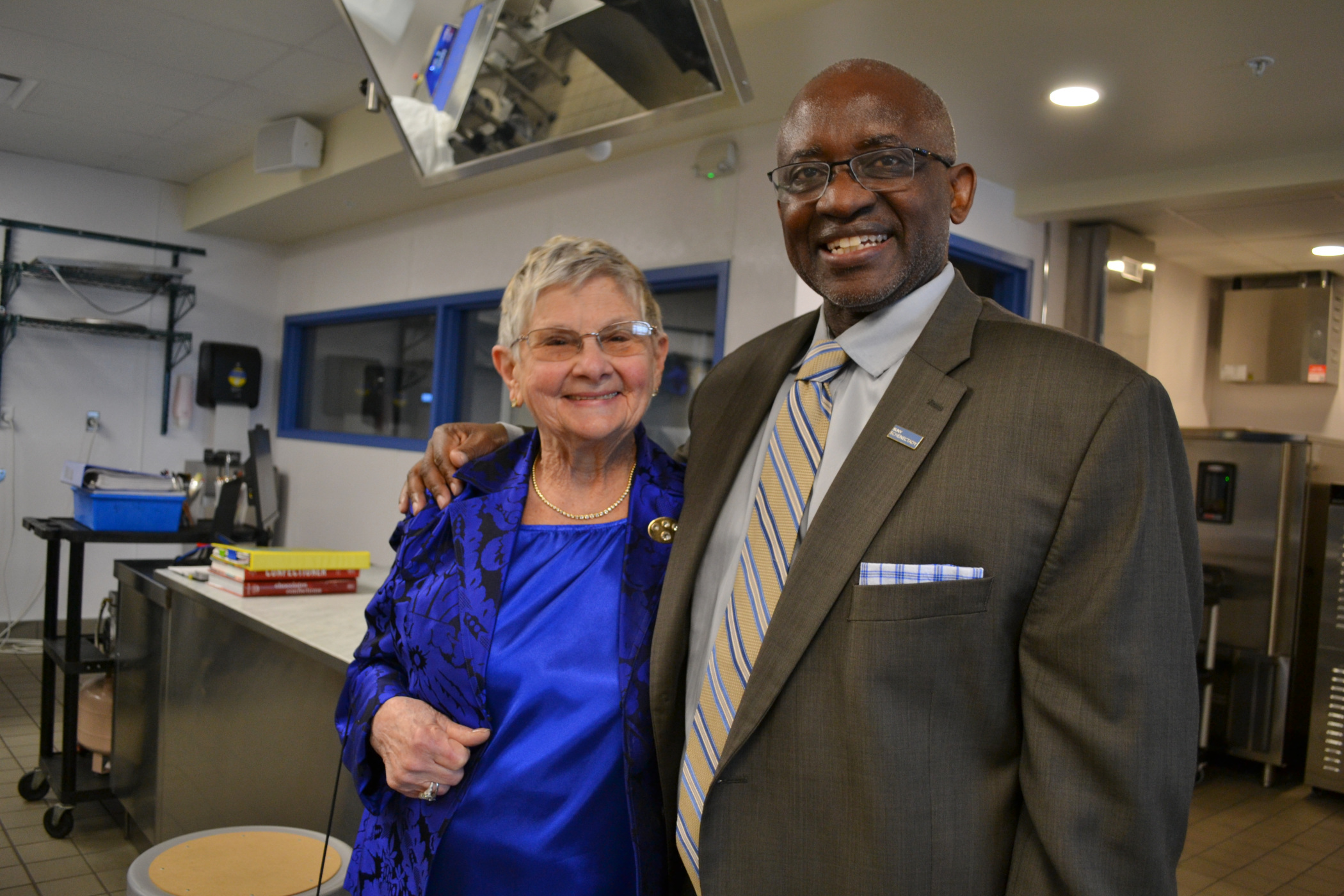 Dr. Steady Moono, College President, expressed his gratitude to Dembinski for her commitment to the success of SUNY Schenectady's School of Hotel, Culinary Arts and Tourism and her considerable support of the College's Foundation which has benefited current students and will positively impact students for years to come.
"Joan is that rare individual who continuously inspires those around her in profound ways, from the students who took Culinary Arts classes alongside her and the faculty chefs who she has assisted during special programs, to the countless students who have benefited from the extraordinary support she has provided to our College Foundation. Since she first began as a returning adult student in the Culinary Arts degree program, Joan has been an integral member of our College community and her generosity has enabled the College to expand opportunities for students by providing scholarships for study abroad in Italy and in so many other ways. We are extremely fortunate to have Joan in our corner and it is my most sincere pleasure to recognize her today with the naming of this lab in her honor."
After 50 years in the pharmaceutical industry (Sterling Winthrop Research Institute, Coromed Inc. and Omnicare Clinical Research) in both Preclinical and Clinical research, Dembinski returned to school at SUNY Schenectady in 2008 and joined the Culinary Arts program, graduating with her degree in 2010. At 85 years old, she continues to learn and share in culinary events for charities including the Chef and Child program of the American Culinary Federation, the Equinox Thanksgiving Community Dinner, and the South End Children's Café in Albany. She is also a volunteer with Feed Albany. A Pastry Chef for the Honest Weight Food Coop and Yono's/ dp an American Brasserie, she has traveled to France, Italy and Indonesia to further increase her culinary skills.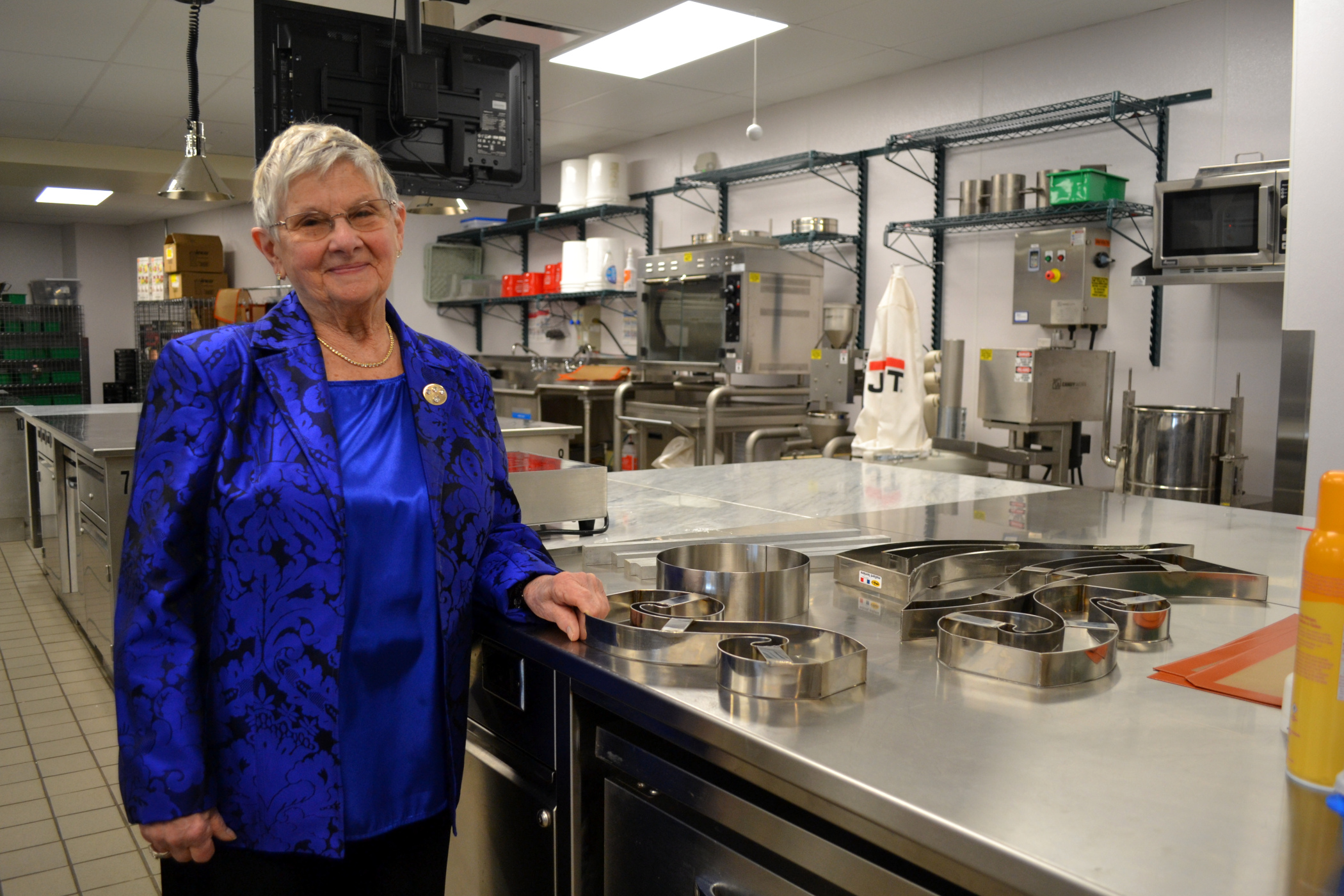 She described her support of SUNY Schenectady this way, "During our lifetime we all have a chance to make future generations thrive and achieve, as we did, on the goodness and generosity of others who care. Generating scholarships continues to be a validating opportunity to personally witness student growth and excitement. I am so proud to be able to provide a living legacy to make an academic pathway a shared experience."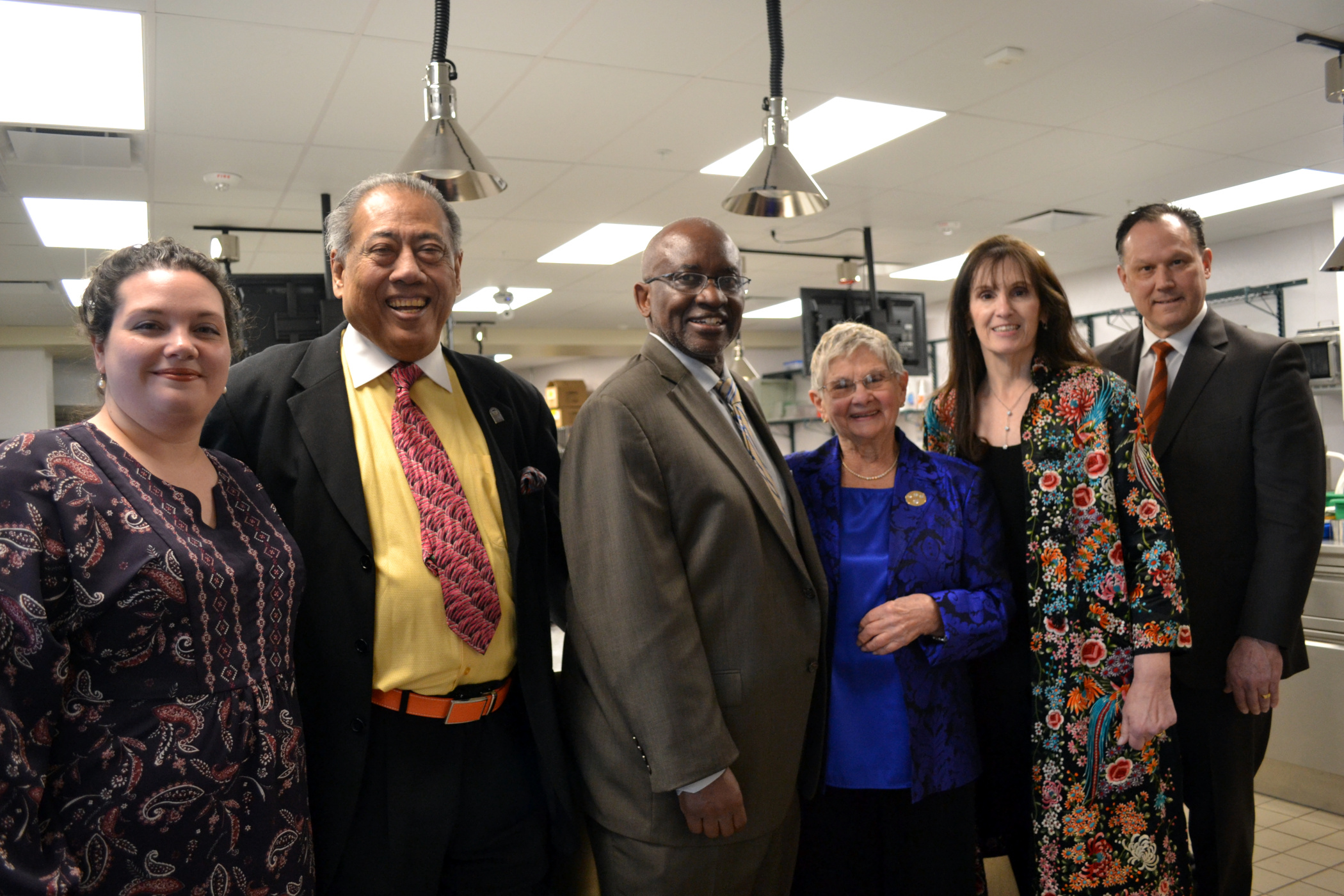 Stacy McIlduff, CFRE, Vice President of Development and External Affairs, SUNY Schenectady; Chef Yono Purnomo; Dr. Steady Moono, President of SUNY Schenectady; Joan R. Dembinski '10; Donna Purnomo; and Dr. David Brough, Dean of the School of Hotel, Culinary Arts and Tourism, SUNY Schenectady,
Students in the Culinary Arts program and Culinary Arts – Baking concentration first began taking courses in the 2,936-square-foot lab, located on the ground floor of 10 Mill Lane, during the Fall 2021 semester. They learn how to make high-quality "bean to bar" chocolate and create delicious chocolate bars and desserts. Making chocolate from start to finish, students begin with raw cocoa beans and use specialized equipment including a roaster, winnower, nib grinder, melanger, sifter, and enrobing, tempering, and conching machines.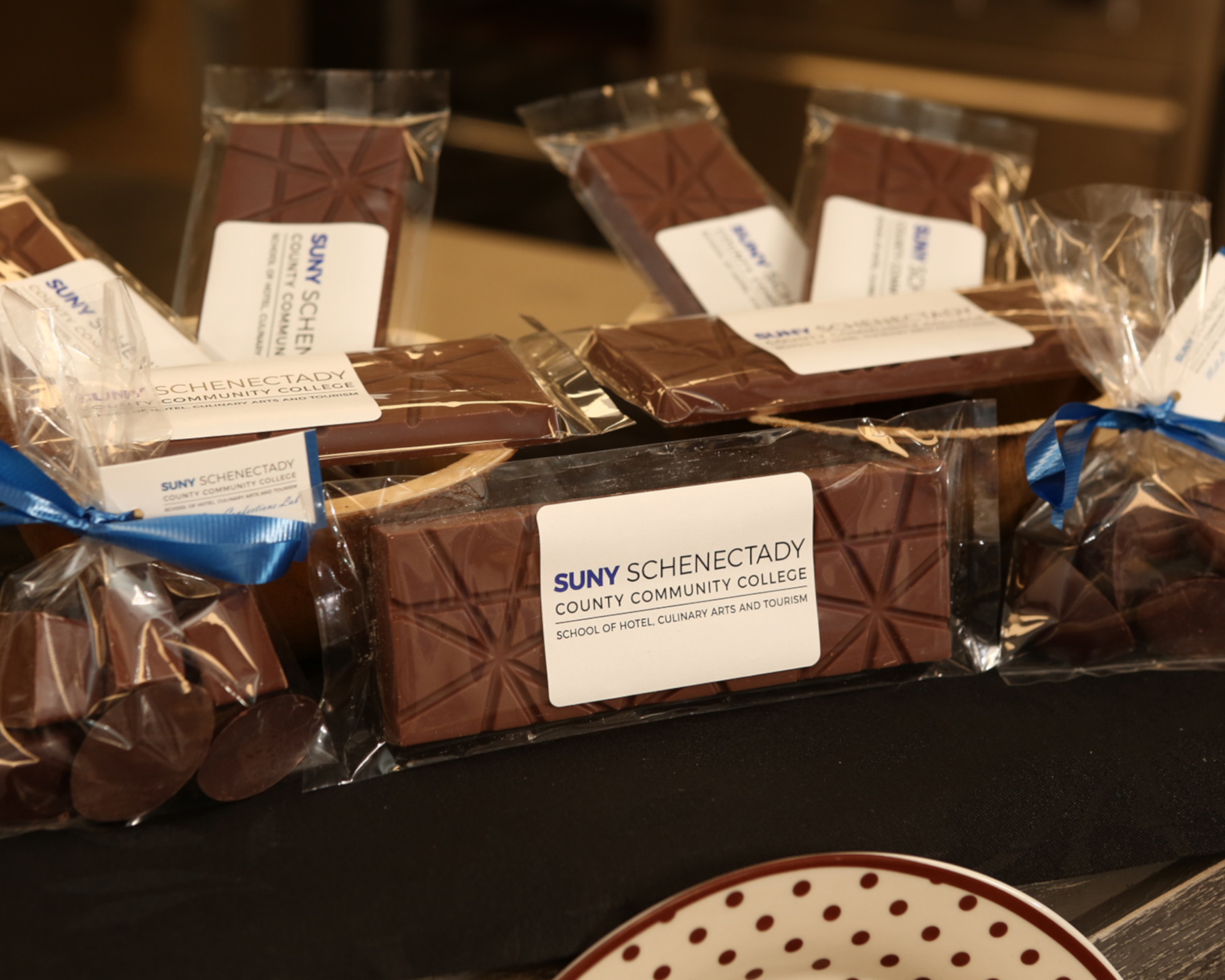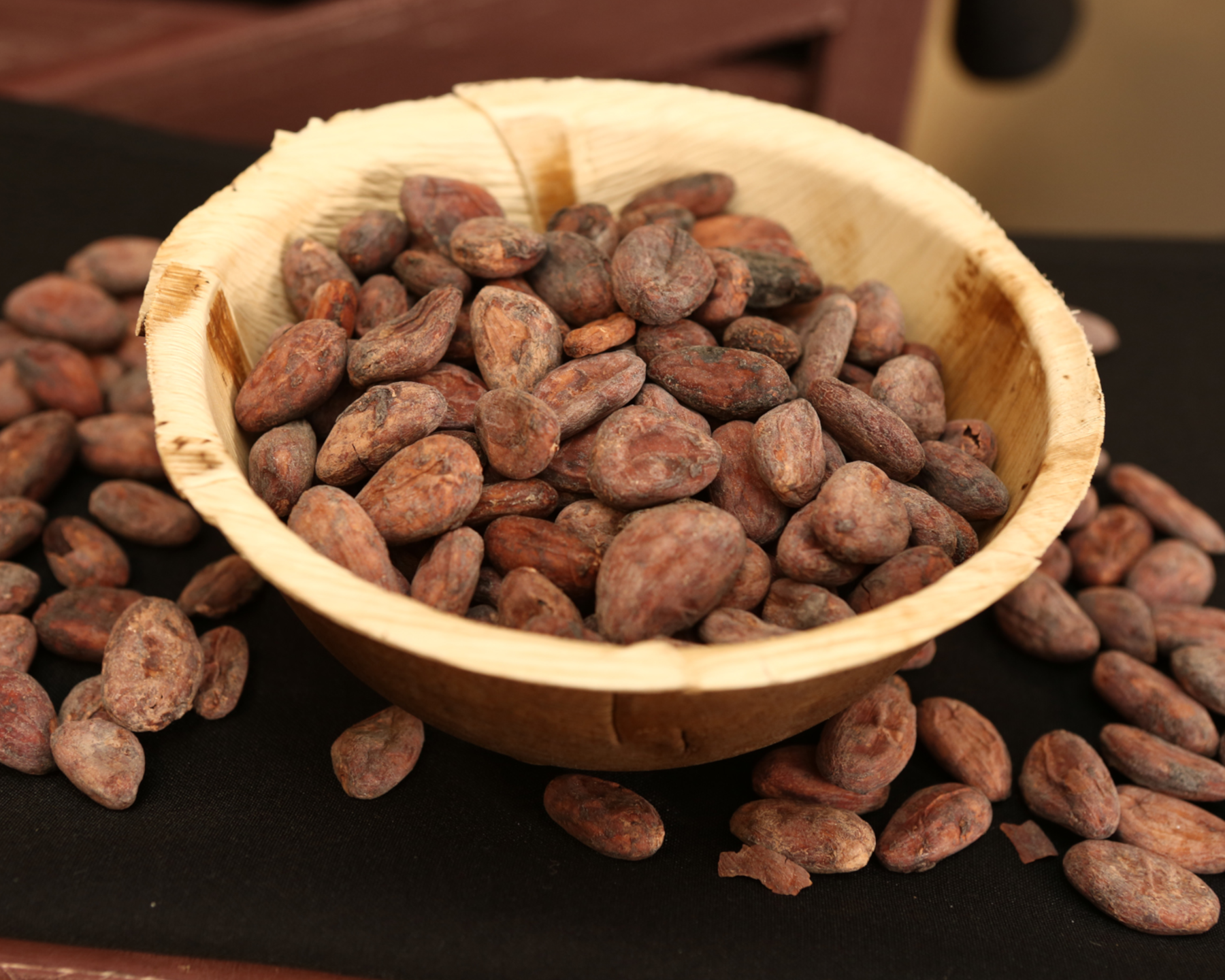 In addition, students are learning how to make other confections from chocolate and sugar. The skills covered in courses in the Joan R. Dembinski '10 Chocolate and Confections Lab will prepare students for careers in bakeries as pastry chefs and chocolatiers, as well as other roles in the Culinary and Hospitality fields that require knowledge of chocolate and confections.