Brass Camp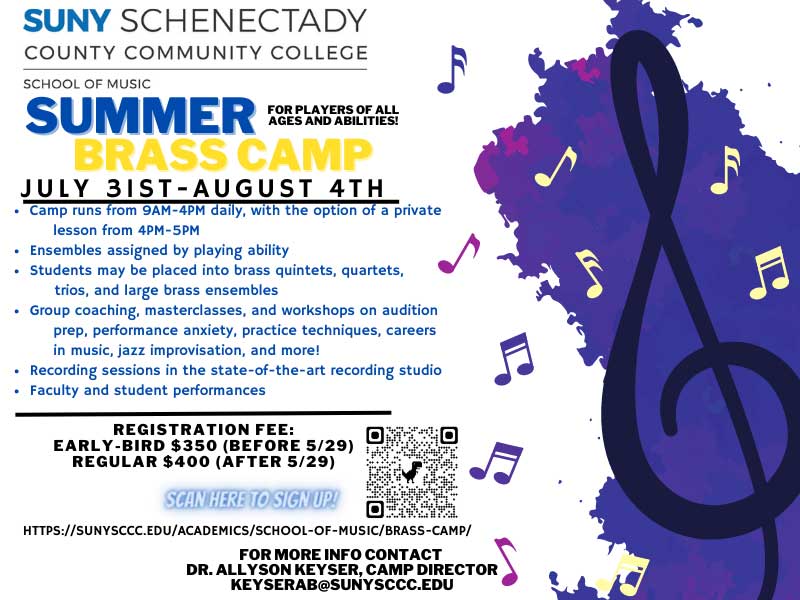 Welcome to SUNY Schenectady's Brass Camp!
We have had such a blast at our annual Brass Day in October, that we decided to turn it into a full-week camp for all ages and levels.
Camp Dates
Monday-Friday, July 31-August 4, 2023
9:00 a.m. to 4:00 p.m.
There is an option to extend your day until 4:30 p.m. or 5:00 p.m. by adding a lesson for an additional fee. The camp will take place in the SUNY Schenectady School of Music. The address for the College takes you to the general campus, and the School of Music building and parking lot face the Scotia bridge.
How to Sign Up/Cost
Students must be at least a NYSSMA level 2 or on the recommendation of a music teacher.
Sign up using the above form.
The regular camp rate of $400 is due by Monday, July 3.
Registration Info: CRN # 60403 CFP 884-02
30-minute Lesson Registration:CRN # 60404 CFP 885-01
60-minute Lesson Registration:CRN # 60405 CFP 885-02
What to Expect
Campers can expect to rehearse with other musicians at similar playing levels in coached, small chamber ensembles (brass quintets, quartets, and trios), in a large brass ensemble with all campers and faculty, attend performance masterclasses and lectures on a wide variety of music topics, perform in a concert, attend faculty recitals, and record in our state-of-the-art recording studio.
Class topics include practice techniques, jazz improvisation, careers in music, performance anxiety, audition preparation, audio technology, and more. We also have built in a fun hour each day to jam out with our student jazz combo, and sightread new music.
Additional Information
If you would like to extend any day until 4:30 p.m. or 5:00 p.m. by taking a private lesson, please email Dr. Allyson Keyser at

keyserab@sunysccc.edu

to schedule. There is a $40 charge for a 30-minute lesson, and $60 for an hour lesson with one of our top-notch faculty members.

You will receive a confirmation of your application upon submission. If you do not see it, please double check your junk mail and email keyserab@sunysccc.edu.

Additional forms will be sent to you via email including medical, emergency contact, and photo/audio/video permission.

Please note that the College's Joshua Schwartz Café will be open each day for a limited lunch menu, or you may bring your own lunch. Lunch will be supervised by members of our staff.

Meals in the Café typically cost between $8 and $15. All are encouraged to stick around and network during lunch hour, however adult campers may leave campus for lunch if preferred.

All adult attendees are subject to a background check.